Education through Art
Background: Target group: 9 emigrant women from Africa (Cape Verde and Angola), living in Portugal for over two decades and a young woman born in Portugal (of Cape Verde descent), aged between 22 and 64.
Theatre: "Cape Verde: Nha terra, Nha tradison
Approaching the subject of immigration with the community we work with at Casa Seis was a desire that had existed for a long time. Immigrant women, who for a variety of "whys" left their country, left their lives, their families. Sometimes they left their children behind and came in search of a better life, work, answers and medical solutions, deciding to stay and remain in Portugal. However, the experience of their culture and the importance of passing it on to their children is a constant in their lives: the music, the gastronomy, the language, are still alive.
The challenge was launched to a group of Cape Verdean women and one Angolan, to put on stage that which is most special in all their immigration trajectories. Through Batuko, a tradition so marked, timeless and central in the lives of these women, each one can rescue their identity memories, hidden stories, in a catharsis that ends up restructuring these souls so wounded by time and by the longing for a country they left behind, but which never left them. At first it seemed to us that it would be a Herculean task, but at each rehearsal, at each discussion table, where each one cemented a line, added a detail, put her personal touch, the play gained body, the group gained soul. But who are these people, who lend their lives to characters that they themselves will play: the hard core is made up of 9 African women (8 Cape Verdeans and 1 Angolan), aged between 22 and 65. Some with very low literacy, but with incredible willpower.
With this group of women we proposed to work with theatre, considering that some cultural and language barriers would be broken down with this strategy. It was always clear to us that theatre would not be an end in itself, but a means to work not only on personal and relational skills, but with the aim of increasing self-esteem, strengthening the sense of belonging to the community and creating bonds of proximity among the women in the group.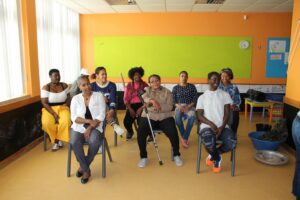 The group decided they wanted to make a play about Cape Verde. In this play they had the opportunity to show the audience and their host community what life is like for a woman in Cape Verde and the strength that a CABOVERDIAN WOMAN carries within herself.
The whole process, from conception to presentation was a democratic and participatory process. The scenes were divided into themes defined by the women, the way they felt it was relevant to present them, due to their importance and meaning for the community. The images (videos and photos) were collected in Cape Verde by me and Marta, under the group's guidance. The songs were mostly suggested or approved by the group, the props (utensils, clothes…) were provided by members of the community.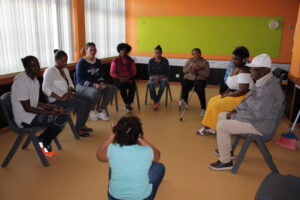 One of the scenes was a narration of a life event on stage. The narrative was based on three questions common to all the women.
– 1: What motivated you to leave your country of origin?
– 2: How was your arrival in this country?
– 3: How is your life today?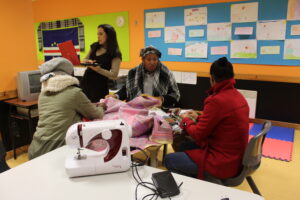 Life history can be considered a "narrator's account of his existence through time, trying to reconstitute the events he has lived through and transmit the experience he has acquired" (QUEIROZ, 1988, p, 20). This methodology starts from the assumption that individuals are holders of knowledge about their practices, they hold a social baggage that reveals how they interpret reality in the light of the meanings they attribute to it (Bogdan and Biklen, 1994).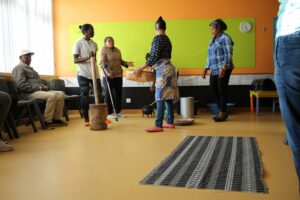 In fact, we used this strategy in a way adapted to our objective, which was to create a play that recreated the daily life of women in Cape Verde, based on their memories and the telling of their stories and spontaneous biographical narratives.
Although each story brings in its narratives an individual look that shows the worldview of a culture, they integrate several events in a single episode. To understand them it is necessary to understand their cultural and historical context, because the experiences of each individual are not exclusive productions of themselves but derived from the context that surrounds them (DENZIN, 1989).
It was wonderful to see and feel the changes, the motivation, the dedication, the difficulties at the beginning being overcome and taking shape, the difficult topics to be tackled that have been kept inside them for so many years becoming venting and strength, to see them becoming actresses, able to show a little of their lives to an audience.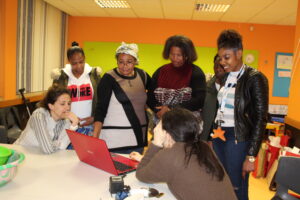 The contribution of the professional actress, Patrícia Cairrão, who, more than technique and competence, brought us awareness and patience. Awareness of the fact that transforming people who have never set foot on a stage into actresses is a much less complex process than transforming the vision that a "host" country has of immigrants. And patience in polishing these diamonds in the rough, to shine as protagonists of their own stories, maintaining the respect and dignity of every tear shed, of every laugh for the true stories shared by all.
Initially, not without some fear, they accepted this challenge as venerable representatives of a people, of a life, of a history. They teach us and amplify our sense of "world vision". These were the impressions that each of these women left me during this brief time together. Courageous, warrior women, ready and determined, who generously let us into their lives, their stories. Poetic life story(s), with all the tragedies and comedies that a life has (Patricia Cairrão).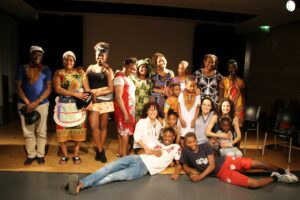 Solange and Marta