At the end of May, after several online meetings, the first in-person mobility for the CLEA project is finally planned. The partners from Italy, Denmark, Portugal and Greece will meet and spend a week together planning and sharing methodologies and reflections on transformative skills and adult education.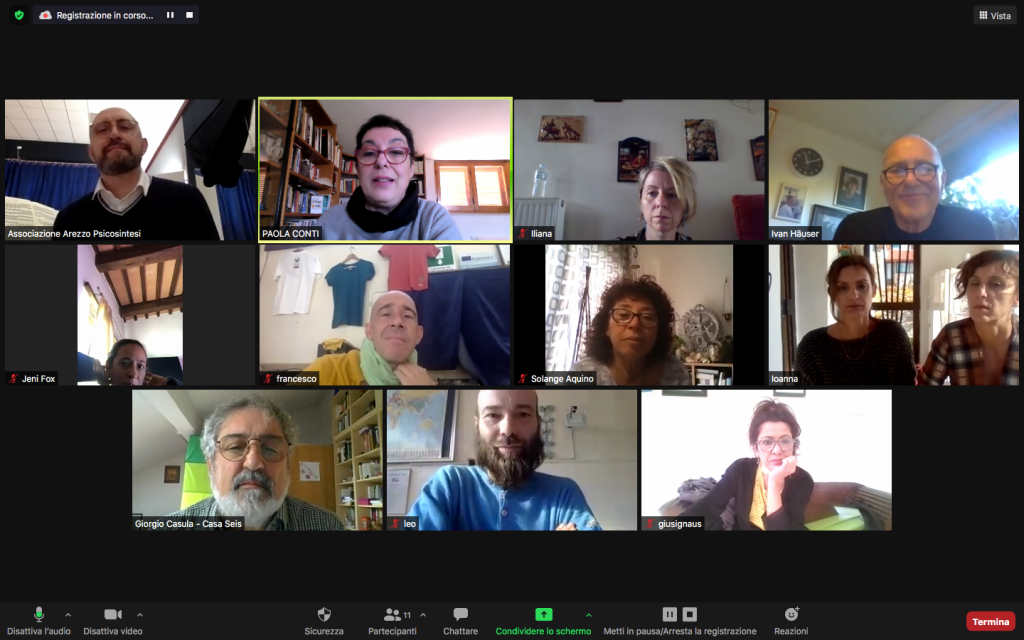 Date: from 24 to 30 May 2021 – Lisbon 
We conceived the CLEA project before the pandemic. Giving value, facing tensions and dilemmas and taking responsibility are nowadays key skills for adults. They are all characterized by the need of a common action: i.e. a co-agency, acting together with others. So they are not only required on an individual level, but on a collective level. How do we want to implement this transformative learning? Through different universal languages that pass along the learning of the body so that skills are incorporated and never forgotten, through experience. We want to accomplish this knitting together local, national and international networks. Thus we offer and propose ourselves as a model for adult education precisely focused on the tensions and dilemmas of this moment. So, what is the new value that we need to create now?

Casa Seis, is an association for community development and is the Portuguese organization that we visited in the first mobility of the CLEA project.
Casa Seis operates mainly in Mira Sintra, a multi-ethnic district of Lisbon. Gypsy nomads, migrants from Cape Verde, Angola and other parts of Africa, joined the Portuguese citizens residing there.
When the municipality decided to demolish the favelas that were in that area and rebuild apartments, the Casa Seis operators asked the municipality to leave at least one house, Casa Seis, house number six, so that it could remain a meeting point for the people and the place from which to reorganize social and community life.
We read this event in a symbolic way and we were very impressed. We thought that we operators, too, can work in the concept of "inner house". We believe that in every human being there is a point in the depths, where it is possible to always feel at home, a point from where motivation can regenerate, in connection with others.
At Casa Seis we have seen and experienced an example of transformative education in a community. We shared moments and stories that can be of great inspiration for all of us Seme Company (Italy), Quilombo Association (Greece), Sintagmi Social Enterprise (Italy), Ivan Hauser Consulting (Denmark), Casa Seis Association (Portugal) itself, to give concreteness to the CLEA project. We are aware of the usefulness of creating a new context for education, remaining in balance in uncertainty and resisting to:
Reconcile tensions and dilemmas
Taking responsibility (responsibility – ability ), respond to the situations that we will face
Create new value
What have we learned on this journey?
In the meetings that took place, we said that we want to achieve many things, formalizing ourselves as an international network. We partners, but perhaps also by aggregating other subjects, who will use a methodology and other educational tools, starting from those that we will propose.
All of this should have a local impact for each of us to reduce educational poverty. These tools that we have declared, the tools that we want to produce as a synthesis of our experiences and the development of a new experience, we will create during the development of the whole project next year, in the field.
They will be a sort of "training method", used by the educator and the participant in the educational process (the learner). How will everything we do in these two years survive the project? How will he be able to go further?
At the center in a focused way, there will always be, on those who have to learn, a method that uses languages ​​including "let's say" the artistic ones, defined in a broader sense as universal. Languages ​​that use the body, the expressive arts and invite the body into the education scene. To do this we need to experiment, to understand what the essence of all this is and we must somehow deliver results to Europe that others will be able to observe and use. Everything that we can produce as a result to be placed in the ether, must have instructions for use, whatever the skills of those who will have to use them.